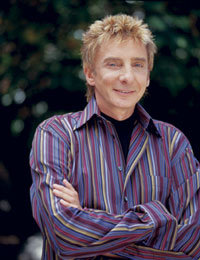 "Try changing the words 'have to' to 'get to.' For instance, instead, of
saying 'I have to see the doctor today,' try saying 'I get to see the doctor today.' It will change your life."
- Barry Manilow

Dear Friends ----
We all knew that Barry's One Night Live Tour really was going to be the end. We all joked that we would never again see so much black luggage assembled in one place again. And wondered if we'd be able to make a living selling old tour laminates on Ebay.
Midway through the tour, the rumor of a pending deal in Las Vegas was a welcomed surprise. We all quickly closed our Ebay accounts and started to wonder what it would be like.
We all had been there a hundred times and had seen a hundred shows. We knew the audiences were a little subdued and the shows a little
routine. We knew we'd miss the excitement of the road, the community with the fans, and the being part of something more than just a concert.
We must have forgotten about Barry.
Subdued and routine are far from the words to describe "Manilow: Music and Passion."
By the end of each Las Vegas concert the audience feels wrapped in some communal warmth of positive feelings. We know. We do too.
And somehow the 1700 people who attend each evening experience as much excitement and emotion as the 17,000 who attended each night of the tour. We know. We do too.
After all these years, you'd think we know what happens when a group of Manilow fans gather together. You'd think we'd assume that it would always be that same level of craziness, community, and compassion that ends each evening. You'd think we'd just take it for granted.
That will never happen.
All of you…each of us…always bring something new and wonderful to the table. That's probably what makes Las Vegas so exciting. The chance to visit that table again every night. And experience that
community that so many of us search for.
Each evening, Barry shares that he's just the catalyst that brings us all together. He says each of us can do the same thing. And encourages us to be the "One Voice" in our own world.
Maybe we can.
Maybe we can.
Never underestimate the passion of a Manilow fan comes to mind.
And until we meet again in Las Vegas; we'll just hold that thought.
Until then….love you….
Your friends at the BMIFC